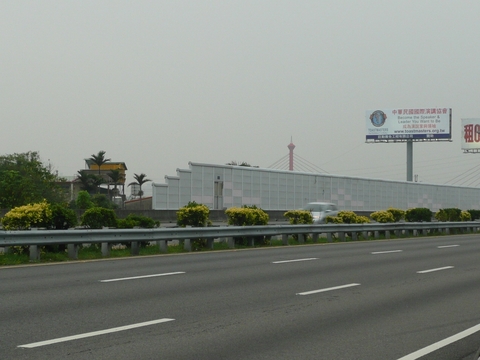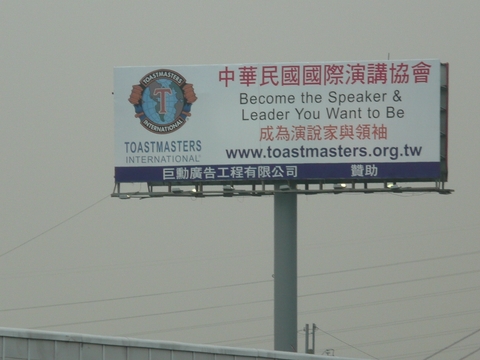 Dear Leaders, Club PR,
How are you?
The T-Bar advertisement beside Highway has been installed on north bound of No. 1 Highway. It is located at 131KM marker near MiaoLi exit. You can see it on your left north bound of highway. We have approval from Headquarter of Toastmasters International for the design of this sign to use logo and trade mark of Toastmasters International.
We highly appreciate CEO of巨勳廣告公司, 陳董事長, for his great contribution to District 67, Toastmasters International. With his great supports, we hope that it could be as a lighthouse standing in Taiwan to let more people know the biggest educational organization, Toastmaster International. We also hope that it will be a great sign to link more people and change their life to become a better speaker and leader. Then we will have a better world!
What a meaningful great job he has done!!!
Let's give him a great appreciation!
Mr. Chen also joined Sunflower as a new member and his son will join Japanese Club soon. Let's give them a big welcome!
Add Color to Your Life!
Y.S.Liao
DTM, District PR, 2008-2009
D67,
Toastmasters International
各位先進, 分會公關,
大家好!
當您疾馳於中山高北上路段, 行經苗栗交流道附近, 您將看到我們演講協會的廣告矗立於131k. 在左手邊喔! (請注意行車安全, 不要太興奮). 我們獲得美國總部的核准此廣告的內容,以合乎總部的商標及Logo 使用規範.
我們深深感謝巨勳廣告公司, 陳董事長的鼎力支持與貢獻,為我們台灣, District 67, Toastmasters International 做了極大的創舉. 經由陳董事長的奉獻, 相信這個T-Bar就像一座燈塔. 讓更多人知曉國際演講會, 它將引導更多的社會精英參加我們的行列, 精練溝通與領導技巧, 成為演說家與領袖,讓世界更美好!
這是何等深具意義的傑作!
讓我們再次感謝陳董事長!
此外, 陳董事長 也已加入昇華中文演講會, 公子也將加入日語演講會. 讓我們以熱 情歡迎, 共同一起學習,邁向成功!