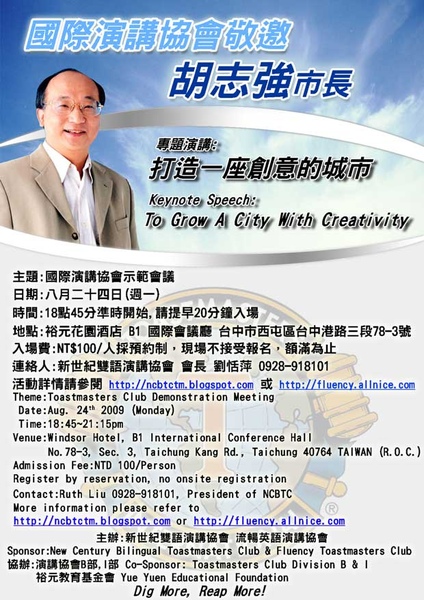 Dear fellow Toastmasters,
NCBTC and Fluency Toastmasters Clubs sincerely invite you to our joint meeting, which features a one-hour English Keynote Speech by the mayor of Taichung City, Jason Hu. The meeting will be held from 6:45 PM to 9:15 PM, August 24th, at Windsor Hotel Taichung (台中裕元花園酒店).
Many members remember the mayor's humorous and sensational speech four years ago. As a man of wisdom, the mayor can lend us his experiences in many ways. This year he is going to share with us his ambition "To Grow a City with Creativity." You cannot afford to miss such a great speech.
NCBTC and Fluency are, among many others, devoted Toastmasters Clubs who promote public speaking skills. We get together twice a month for warm, intellect stimulating and fun gatherings in which each of the members has an equal opportunity for sharing his/her mind. We have a wide variety of members, including teachers, businesspersons, engineers, salespersons, to name just a few. We welcome anyone to come to our meeting to personally experience the true fulfilling moment.
Please register to Eric Hsieh of NCBTC (email: eric.daisy1491@gmail.com, 0935-080173) and Eric Wang of Fluency (email: chyewang@seed.net.tw, 0953-352575) before Aug.7th (Friday), for a better meeting quality, no onsite registration.
Admission fee: NTD$100/person.
Please set aside the time and get ready to witness another great experience.
Ruth Liu
President of NCBTC
Jennifer Huang
President of Fluency
Co-sponsor : Division I, Division B