Dear fellow Toastmasters:,
親愛的國際演講會會員們,
We are running into the countdown of the 2011 Fall Conference (11/19-20); are you ready? Please expedite your pace to register with the Early Bird discount price (two day full package NT$1,900) for the Conference before it's too late. The deadline for Early Bird registration is Oct. 31 !
我們離2011秋季大會已進入倒數計時了(11月19-20日),您準備好了嗎? 趕快加緊腳步提早用早鳥專案的優惠價格(NT$1,900兩天套裝行程)向大會報名吧,以免優惠過期喔。早鳥優惠價格到10月31日截止喔。
With this letter, we would like to give you some updated info about the 2011 Fall Conference.
藉由這封信我們希望提供您一些有關2011秋季大會的更新資訊。
1). The LOGO of the 2011 Fall Con Theme "Fall Forward" has been completed. It represents the spirit of District 67 : Breakthrough against the headwind; Fall Forward.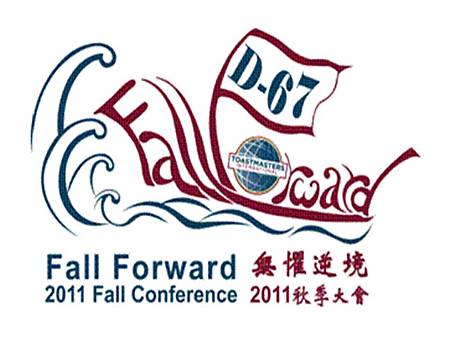 大會主題「無懼逆境」的標誌以設計完成(如圖),代表了我們D67區的會員精神:乘風破浪、勇往直前、無懼逆境。
2). One of the highlights of the Conference is the dinner party. This year we have arranged one of the classic Live Band. We will listen to romantic music during dinner and dance with hilarious music after dinner. You can "dance until you drop". You will absolutely feel satisfied. Band info and song list can be found in our Website.
大會的高潮之一是晚宴,今年的晚宴我們邀請到非常經典的樂團現場演奏,晚餐時浪漫音樂,晚餐後勁歌熱舞,絕對讓您欲罷不能十分滿意。樂團資料和預定曲目都已上傳至大會網站。
3). Education Training – Beside World Champion Mr. Mark Hunter and International Director Mr. Balraj Arunasalam, we have invited several senior and proficient trainers : Helen Chen, Lester Lin, Linker Lin, Roger Lee and some Chinese/Taiwanese speakers. We are sure you can definitely learn a lot from them.
教育訓練 – 除了世界冠軍Mark Hunter先生和國際理事Balraj Arunasalam外,我們還精心安排了國內多位資深、有兩把刷子的講者: Helen Chen, Lester Lin, Linker Lin, Roger Lee, & 張文玲、劉基欽。相信您一定會獲益良多。
4). Children are welcome to our Conference and Dinner Party. Children under 12 years will have a red envelop from us, but please register and pay the same amount in advance. Please specify on the registration form for children under 12 (for us to arrange the red envelop). But please make sure your child(ren) can keep silence during contests.
歡迎兒童參加大會及晚宴,12歲(含)以下兒童將會收到我們的紅包,但請先報名繳費(和會員費用相同),請在報名表上註明12歲以下,才能收到紅包喔。但請確定您的小孩能在比賽時保持安靜。
5). Taichung is a city full of wonders and resort areas. If you have extra free time, you can visit the famous scenic spots like: The National Science Museum, The Art Museum, Luce Chapel of Tunghai University, The night market of Fang Cha University,…etc. There is a very convenient spot - Wangaoliao Park (2km from Nanshan Education Center) where you can have a wonderful night view of Taichung city in the mid of the beautiful fall atop the hill with caressing breeze; what a pleasure!
台中是個充滿歡樂與休閒的都市,若您有空,可造訪:科學博物館、美術館、東海大學路思義教堂、逢甲大學夜市…等,還有一個最便捷可觀賞台中夜景的好去處:望高寮公園(距離南山教育訓練中心約2公里,車程2分鐘,步行約15分)。仲秋之夜,在山之巔,清風徐來,好不愜意。
6). Dinner room arrangement - there will be two areas - live band area (40 tables) and quiet area suitable for chatting and night view (15 tables). All table arrangements will be made according to your registration time sequence (the earlier the near to the band). After dinner, everybody can dance in the Live Band area. But for a more spacious dancing floor, there will be 8 tables to be removed after dinner time (around 8:00pm). In case you mind sitting at those 8 tables, please specify in the registration form that you want to sit at the "quiet area".
晚餐桌次分40桌 熱門區,和15桌雅緻區,熱門區有現場樂團演奏,雅緻區比較方便交談和看夜景,主辦單位依報名順序優先安排熱門區,晚餐後的派對時間全部會員可進入熱門區跳舞。但為了更寬敞的舞池,餐後(8:00pm)將撤掉八桌,若您不願被撤桌,請於報名表中指定坐雅緻區。
7) All detailed information can be found in our 2011 Fall Conference Website (English website : http://www.toastmasters.org.tw/clubs/newcentury-bi/2011fallweb/indexe.html). If you have any further questions, you can e-mail to Teresa Chang (Div. L Gov., Chair of 2011 Fall Conference) e-mail : teresa.chang@yahoo.com.tw .
所有相關訊息均登在2011秋季大會網站 (中文網站:http://www.toastmasters.org.tw/clubs/newcentury-bi/2011fallweb/index.html)。若仍有問題,請寫郵件給大會主席L部總監張海星(teresa.chang@yahoo.com.tw) 。
We wish you a pleasant journey of leaning and growing! Look forward to seeing you soon in Taichung!祝快樂學習成長!我們台中見!
Sincerely invited by
Philip Yuan 袁高雲, Chair, Div. B Governor
Jennifer Huang黃緹涓, Chair, Div. I Governor
Teresa Chang 張海星, Chair, Div. L Governor
Solomon Chen 陳立山, Chair, Div. F Governor
with Committee members of 2011 Fall Conference
暨2011秋季大會全體委員 敬邀